The Ricardo Ranch Area Structure Plan (ASP) is made up of 1,570 acres of land in southeast Calgary. The site is bound by the communities of Seton and Rangeview to the north, Deerfoot Trail SE to the west, the Bow River to the south and 88 Street SE to the east of the plan area. This website shares details about the Ricardo Ranch ASP as well as more information about the neighbourhood of Logan Landing.
What is an Area Structure Plan?
An area structure plan (ASP) is a long-range planning document and is the first step in obtaining planning approval for a new community. An ASP gives direction for more detailed subsequent planning stages such as Outline Plans, Land Use Amendment and Subdivision applications.
About the Project
Ricardo Ranch ASP
The Ricardo Ranch Area Structure Plan (ASP) was approved by City of Calgary Council in the fall of 2019. The ASP has three landowners: Genesis Land Development Corp., who is progressing an Outline Plan for Logan Landing, and Brookfield Residential and Jayman Homes/Telsec Property Corporation who are pursuing separate Outline Plans. The area will contain predominantly residential land uses, and include Neighbourhood Community Centre, escarpment pathways, two school sites and environmentally significant lands.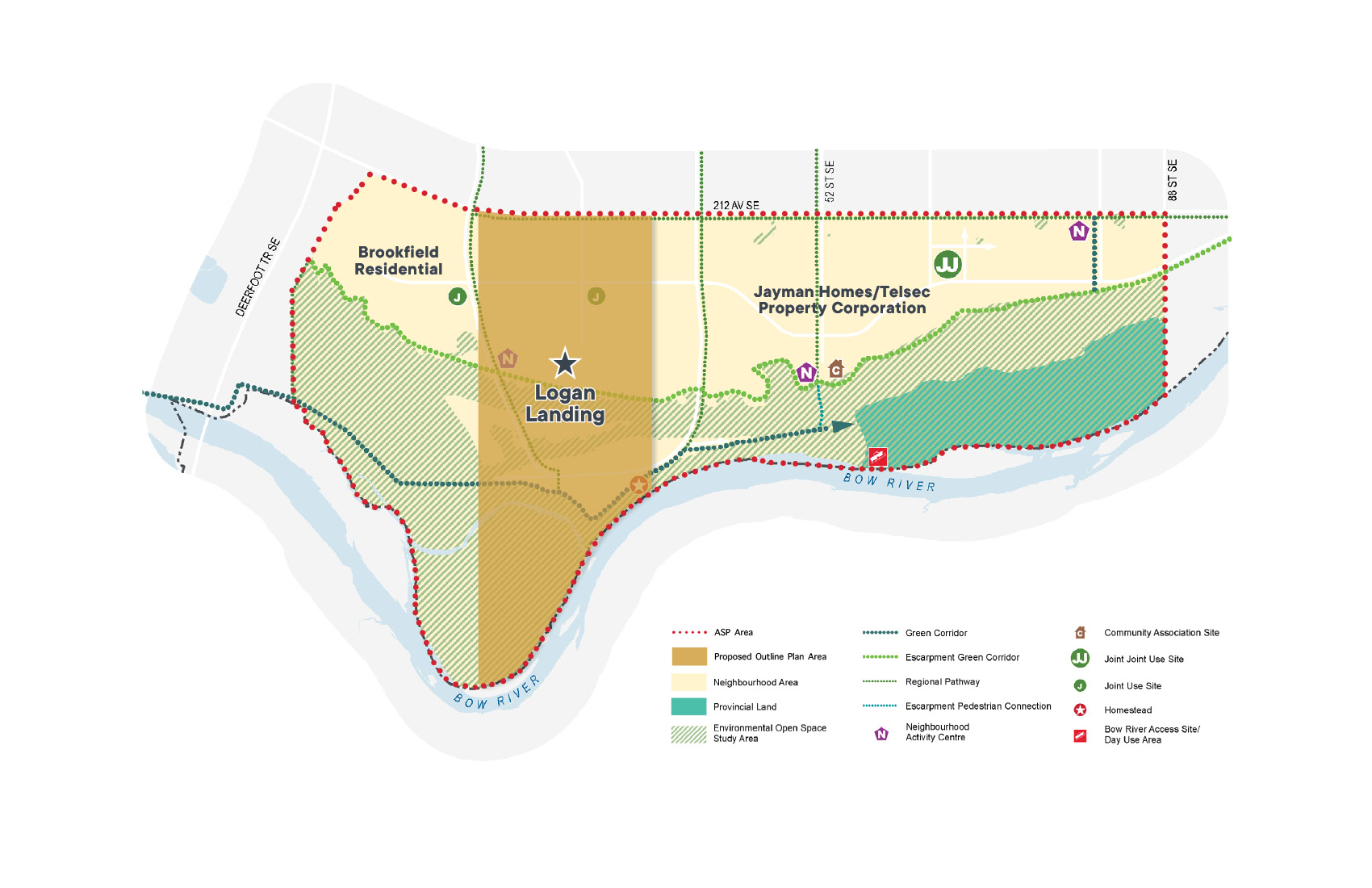 Logan Landing Outline Plan
After the approval of the Ricardo Ranch ASP, the Outline Plan process kicked off as the next step toward receiving approval for the community of Logan Landing. An Outline Plan shows what will go where (roads, pathways, open space, block sizes) and what can be built on the parcels of land. Outline Plans are usually processed together with land use amendments to ensure a workable distribution of land uses, open space, and road networks. The Logan Landing Outline Plan received approval during the Public Hearing of Council on May 16, 2023.
A virtual information session was held on October 24, 2022 to share information about the Logan Landing and Seton Ridge Outline Plan applications, respond to questions and gather input.
ASP Reports
As part of the ASP process, an Ecological Inventory was undertaken to identify site characteristics. The following studies were completed to inform the planning process:
Logan Landing Project Resources
Contact Us
Please reach out to our Engagement Specialist if you have any questions or comments regarding the project:
Martha McClary B&A, Engagement Specialist mmcclary@bastudios.ca